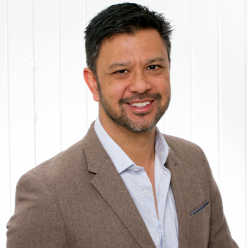 SERVICES
Workshop Design and Facilitation
Executive Coaching
Introduction to Complexity & Systems Thinking
Strategy Design and Implementation
Development of Competency Frameworks and Workforce Planning
Governance and Performance
EXPERTISE
Leadership
Coaching
Team Development
Programme Facilitation
ACCREDITATIONS
Team Management Profile (TMP)
Linking Leader Profile (LLP|360)
Opportunities-Obstacles Quotient (QO2) Profile
Window On Work Values (WoWV) Profile
Experience
With over 10 years Consulting experiences with Defence, State Government, the Corporate Sector and Not-For-Profits, Patrick specialises in organisation and societal complexity by building resilient workforces that are prepared for the future challenges. My approach is to partner with organisations as their advocate and build the improvements they seek through a collaborate and coaching style.
Patrick is an Executive Coach, Consultant & Educator, specialising in Human-Centered Design & Systems Thinking. Patrick leverages his Aerospace Engineering and Military background to help clients build the new capabilities they require in order to realise the outcomes they seek, particularly in times of uncertainty and rapid change. In order to achieve the desired outcomes, new mindsets are necessary as conventional thinking by itself is no longer effective. By implementing practical and sustainable approaches, Patrick hopes to help to shape innovative cultures, resilient teams and progressive leaders that are necessary to navigate the complexities of this world.


"I recently worked closely with Patrick during the development and delivery of the Australian Government Department of Foreign Affairs and Trade (DFAT) funded Australia Awards Fellowship Program entitled, 'Responding to Skilled Worker Demand: Improving Quality, Leadership and Management of TVET' in Vietnam. Throughout the delivery of this Fellowship Program Patrick was responsible for facilitating training activities in the areas of transformational leadership, personal leadership, leading teams, project management and change management. Patrick did an outstanding job in this position demonstrating his agility in effectively and efficiently responding to emerging challenges as well as contextualizing training content to meet the needs of his audience, in this case senior leaders from Vietnam's Ministry of Construction. Utilizing his highly developed communication and organizational skills, as well as knowledge of leadership and project management, Patrick was an invaluable asset to the program."
- Program Manager for International DFAT Programmes
Patrick travels from Brisbane, QLD and is available to partner with global organisations.