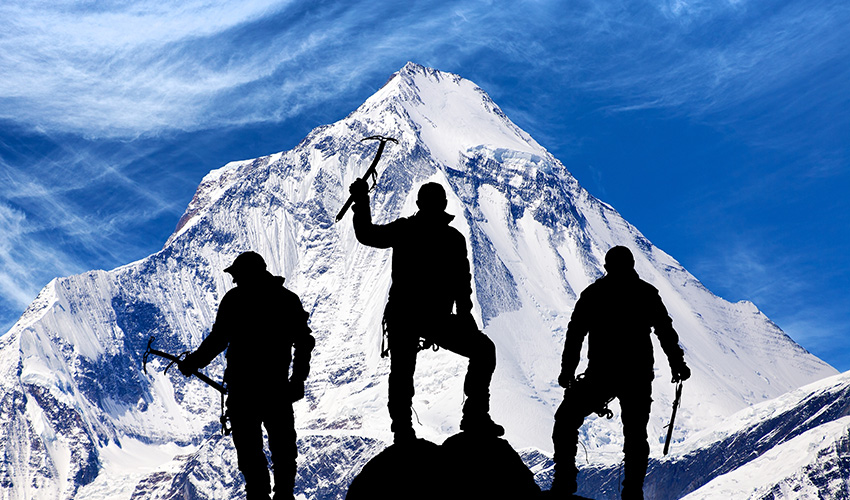 Ascent of Dhaulagiri 1
At 9 p.m. on the 25th May 1997 three Australians stood at the top of Dhaulagiri 1 in the Himalayas. After five years planning and four months of climbing (over two expeditions), we had finally conquered the seventh highest mountain in the world.
The Australian Army Alpine Association (AAA) had attempted to scale Dhaulagiri in 1993 but climbers were literally blown off the mountain at 7,500 meters. Poor weather, frost bite and the strain of maintaining harmony within the team exhausted the climbers, causing the attempt to fail.
The 1997 AAA expedition looked at what could be improved for our second attempt. Better quality tents were purchased and we used improved technology for gloves and boot insulation. However, the people dynamics were another issue: we couldn't buy team harmony.
In March I approached Dr. Dick McCann to ask if Team Management Systems (TMS) would provide Team Management Profiles (TMP) for each team member. Dick was happy to assist and the ten members of the AAA Dhaulagiri expedition completed their profile questionnaires.
On the second day of the trek, I presented each climber with their Team Management Profile. Out came the flipchart paper (rather creased, I admit) and the marker pens for the debrief session. The presentation in the tent, with 98 porters peering in at the crazy western climbers with their colored Wheels, was rather novel.
The Team Management Profile was accepted openly by all team members and heaps of questions were asked. The Profiles helped the team members to develop some common language for discussing team dynamics and their individual differences.
As the expedition unfolded and the pressures of high altitude and poor weather (read three meters of snow!) started to take their toll. The Team Management Profile's value became evident. The guys were sitting in their tents reading profiles to understand how to approach each other more effectively. A good example of this was two of the team's Thruster-Organizers rereading how not to press each other's "buttons" before continuing to discuss their summit strategies.
The team expressed that the time spent participating in the Team Management Profile session paid big dividends and helped make the expedition fun, successful and most of all, harmonious. To be part of the first Australian ascent of Dhaulagiri 1 was an outstanding achievement. However, to have conquered the mountain and made ten lifelong friends as a result of the experience is overwhelming.
Copyright © Bob Killip. All rights reserved.