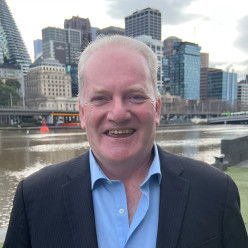 SERVICES
Development programs in leadership, strategy & change
Evidence-based, data-driven people insights
Executive coaching
FTF and online workshop design and facilitation
EXPERTISE
Leadership
Programme Facilitation
Change Management
Business Innovation and Transformation
ACCREDITATIONS
Team Management Profile (TMP)
Linking Leader Profile (LLP|360)
Opportunities-Obstacles Quotient (QO2) Profile
EXPERIENCE
Paul Mills has over 27 years of experience in designing and delivering top tier leadership development initiatives using a wide range of evidence-based tools and resources to build insight and capability.
Paul develops a deep understanding of his clients, their operating environment and challenges to deliver practical and measurable solutions with deep impact. Paul consults to leading Business Schools as well as organisations in the private, public and for-purpose sectors.
Paul Mills Consulting is a trusted partner in Australia, New Zealand and Asia, working at all levels of leadership to assist them to survive and thrive in a disrupted environment.
SUCCESS STORIES
Preparing for Merger and Developing Leaders – Newcastle Greater Mutual Group (NGM Group)
TESTIMONIALS
"The feedback for Leading Change and Thriving Through Change has been overwhelmingly positive and the content is absolutely hitting the mark with all levels of leadership. Leaders have also been impressed with the facilitation style and use of storytelling for impact."
- Gayle Piek, Chief People Officer, NGM Group
"Paul was engaged by me at Fairfax Media in New Zealand for over 4 years. During this time, he ran our Senior Leaders program, which saw approximately 200 people participate and all have reported positive feedback about Paul. They have also raved about the benefit they have received from the individual coaching from Paul. He also ran Leadership sessions with our Executive and other management teams in the business which focused on the team and the individual. These sessions have been run to a high level and have been the most value-add sessions that I have seen operate at the Exec level. More recently, we have engaged Paul at New Zealand Health Group, running the Foundational Leadership Program for 16 senior leaders. The program was a great success, and we are now moving to offer the program to other leaders in the business. Paul has got a style where he gets to know the organisation and what the key issues are and then can add insight from what is happening in the wider business world. Nothing is ever too much trouble for Paul, and he is a person who is at the top of his field, and a person who I would recommend to any Executive/Management teams wanting to improve their performance."
- Mike Peters, Group General Manager, People and Culture, New Zealand Health Group
"I've had the pleasure of working with Paul for several years in the area of leadership development and most recently on change leadership, and I am delighted to provide this testimonial. Paul's expertise and guidance have made a significant impact on our organisation.
Throughout the engagement, Paul demonstrated exceptional knowledge and deep understanding of change management strategies. He skilfully navigated the complexities of our organisation, providing invaluable insights and practical solutions for our senior leaders to effectively lead change initiatives.
Paul's ability to connect with individuals at all levels was remarkable. His approach was both inclusive and collaborative, ensuring that everyone felt heard and understood. Through his engaging workshops and one-on-one coaching sessions, Paul empowered our leaders to develop their leadership skills, fostering a positive and resilient work culture.
What sets Paul apart is his genuine passion for driving organisational growth and his unwavering commitment to our success. He tailored his approach to our specific needs, seamlessly blending theory with real-world examples and went over and beyond to make the engagement a true success. Paul's enthusiasm was infectious, inspiring our leaders to embrace their roles as change agents.
Furthermore, Paul's communication and presentation skills are truly exceptional. He effectively conveyed complex concepts in a clear and concise manner, leaving a lasting impact on our leaders. His ability to articulate ideas and engage the audience ensured that our learning experiences were not only informative but also enjoyable.
Overall, working with Paul has been a delight. His expertise, empathy, and passion for leadership have made a remarkable difference in our organisation. I wholeheartedly recommend Paul to any organisation seeking to enhance their change leadership capabilities and cultivate effective leaders."
- Simone Hart, Executive Director, Organisational Development & Talent Acquisition, Colonial First State
Paul travels from Sydney, NSW and is available to partner with organisations across Australia, New Zealand and the Asia Pacific.