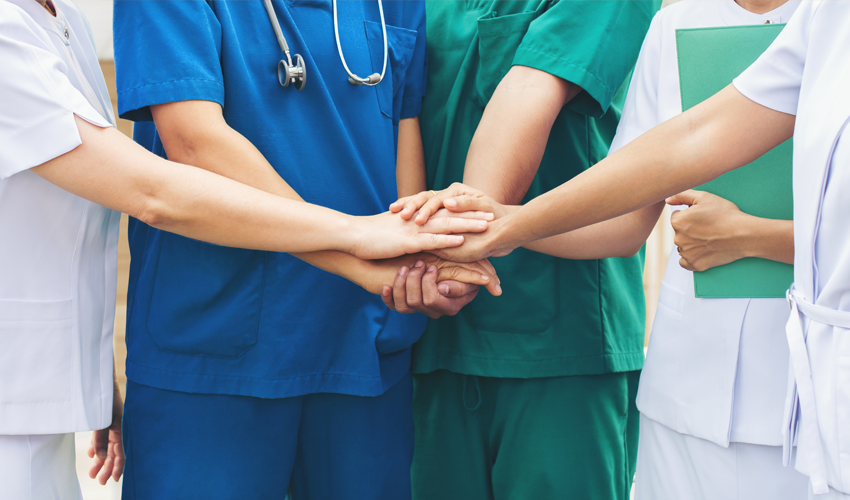 Improving Healthcare Through Collaboration
Metro South Health Hospital and Health Service (MSHHS)
Challenge
Collaborative practice is essential for providing patients with the best outcomes in contemporary healthcare settings. Research has shown that interprofessional learning is a key factor in achieving successful teamwork, yet these skills are traditionally developed in professional silos, or not at all.
Complex conditions, increasing comorbidities, specialisation, and resource scarcity have increased healthcare workers' need to work effectively in teams to achieve quality, patient-centred care.
Metro South Health Hospital and Health Service (MSHHS) is the major provider of public healthcare services, and health education and research, in the Brisbane south side, Logan, Redlands and Scenic Rim regions. A collective of five major hospitals and several health centres, MSHHS employs a combined 14,000 staff who work together to manage the complex needs of an estimated 1.2 million people, approximately 23 per cent of Queensland's population.
Approach
The MSHHS teamwork programme had three primary goals:
1. Build knowledge of effective teamwork.
2. Promote positive behaviour change in communication and collaboration.
3.
Assess the impact of team development on patient and organisational outcomes.
Over a period of four years, 886 staff from various health disciplines embarked on a three-phase developmental journey. In the first part, each participant completed a TMP and received their individualised report.
Next, a TMP Accredited Practitioner from MSHHS delivered a team debrief that explored individual and aggregated team data, discussing how these could be used to enhance performance.
Finally, ongoing support was provided via an internal network of TMP Accredited Practitioners and team champions to ensure continuous learning and behavioural change.
Outcome
Participants' reactions to the TMP training were overwhelmingly positive, with 94% of participants indicating they were satisfied with the programme content and outcomes immediately following the training. This effect was long-lasting, with participants reporting a positive impact of knowledge and understanding about effective teamwork up to two years later.
Participants reported a significant increase in positive perceptions towards team dynamics, including a shared sense of purpose, improved interpersonal skills, greater trust and respect, a better appreciation of diversity, enhanced collaboration, and stronger relationships.
Positive behaviour change was also evident in the majority of participants for at least six months after attending a workshop. This confirmed the embedding tactics employed by the programme were successful in ensuring that the training was not a one-off learning experience.
Team members reported modifying their communication to improve teamwork and interactions. Teams restructured and reallocated activities according to individual strengths identified in the TMP. Clinical supervision sessions were enhanced with staff members applying TMP concepts in reflective practice; another example of the programme's lasting impact.
Overall, the MSHHS teamwork programme had a lasting impact on positive behavioural change, with the TMP proving effective in building teamwork capability and improving team performance.
This case is based on the following publication:
Wood, A. J., Grudzinskas, K., Ross, J. A., Bailey, S., Gordon, G. E., Burton, C., & Wishart, L. R. (2019). Strengthening teamwork capability in allied health: implementation of a team development program in a metropolitan health service. Australian Health Review, 44(3), 443-450.