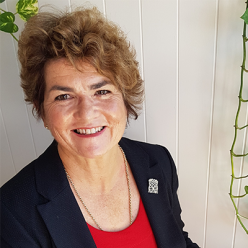 SERVICES
Team Development

Executive Team Coaching

Individual Coaching

Resilience, Energy and Performance

Building Psychological Safety at Work

Problem Solving and Innovation
EXPERTISE
Leadership
Team Building
Coaching
Programme Facilitation
ACCREDITATIONS
Team Management Profile (TMP)
Linking Leader Profile (LLP|360)
Opportunities-Obstacles Quotient (QO2) Profile
Experience
Deborah has an extensive background in the work force, and as a practicing psychologist, Deborah has a real talent for taking complex ideas and making them understandable and workable. She has a great deal of credibility with her clients by a strong focus on both people and the business. Deborah easily establishes rapport with people at all levels of an organisation. She helps top managers understand the leadership challenges and behaviours needed to develop the climate and culture for successfully implementing major transition initiatives.
As an organisational behaviour specialist Deborah utilises highly effective and proven processes that enable people to actively build skills and demonstrate key behaviours. These form the cornerstone of a healthy, resilient and productive culture that enables both high performance and staff engagement. With a strong focus on action learning, Deborah's focus is on building capability at both the individual and the system level to meet the challenges of today's business world. She has a pragmatic focus on what is real and pressing and uses the latest research and engaging processes to meet client needs. People find participation easy, learning enjoyable and report high levels of gain from participating.
Testimonial
"A key component of our organisation's success is enabling our people to do great work in the communities we serve. With increasing regulation, and a deep desire to deliver even higher quality services and outcomes for our clients into the future, it is vital that our people function well as a team. We engaged Deb Johnston to help us to improve our team performance. She has used the TMS tool to help us understand our individual and team profiles. The process has truly supported us in identifying individual strengths and better ways of working to deliver great outcomes. If you are looking to shift your culture and team performance I highly recommend TMS and Deb Johnston."
-JM Exec Director Corp Services Health Industry
"Deborah's program design and delivery always demonstrates sound and thorough professional knowledge, and a creative and practical approach."
- JD Senior Executive. Aust Public Service
Deborah travels from Brisbane, QLD and is available to partner with organisations across Australia and throughout Asia Pacific.