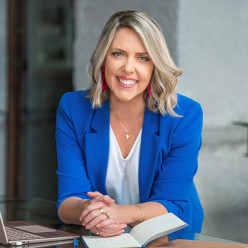 SERVICES
Developing Leaders & Leadership Teams
Team Building & Team Cohesion
Executive & Team Coaching
Culture Audits & Enhancements
Tailored Workshops
EXPERTISE
Leadership
Team Building
Coaching
Team Development
ACCREDITATIONS
Team Management Profile (TMP)
Window On Work Values (WoWV) Profile
EXPERIENCE
Elena has a keen eye for potential and an almost insatiable appetite for cultivating and fostering growth in individuals and teams. For over two decades, she has worked with complex organisations in internal and consulting roles helping them progress their 'people at work' agendas. She has occupied senior leadership roles, led multi-disciplinary teams and regularly interacted with boards. She now leads Pause & Play People Solutions, a culture and leadership coaching and consulting business, and partners with leaders and leadership teams who want to unlock their potential, build stronger connections and have a greater impact.
Elena has formal qualifications in Coaching, Leadership, Behavioural Science and Communications and has achieved the Associate Certified Coach (ACC) credential with the International Coaching Federation (ICF). She has utilised the Team Management Systems' tools for 10+ years as an effective way to improve self-awareness, build greater team cohesion and improve team dynamics. Her clients appreciate her balanced approach, where her realistic optimism and experienced facilitation and coaching techniques combine to deliver timely and effective results.
Elena specialises in Team Workshops and Executive and Team Coaching that focus on helping leaders to build connection, create capacity, gain perspective and live up to their potential while they inspire their team members to do the same.
TESTIMONIALS
"Elena has a deep understanding of both commercial factors and the dynamics of human behaviour in the workplace. This is evident in her facilitation and coaching. I highly recommend Elena."
- Director - People & Performance, Legal industry.

"The way in which Elena engages and draws out insights and learnings, and supports development is rare."
- Head of Department, Banking industry.

"Shout out to Elena who facilitated an amazing session with our team last week. We uncovered each of our individual working styles and strengths. Such valuable insights and delivered beautifully - and of course, so much fun!"
- Founder & Director, Recruitment industry.
Elena travels from Brisbane, QLD and is available to partner with organisations across Australia.