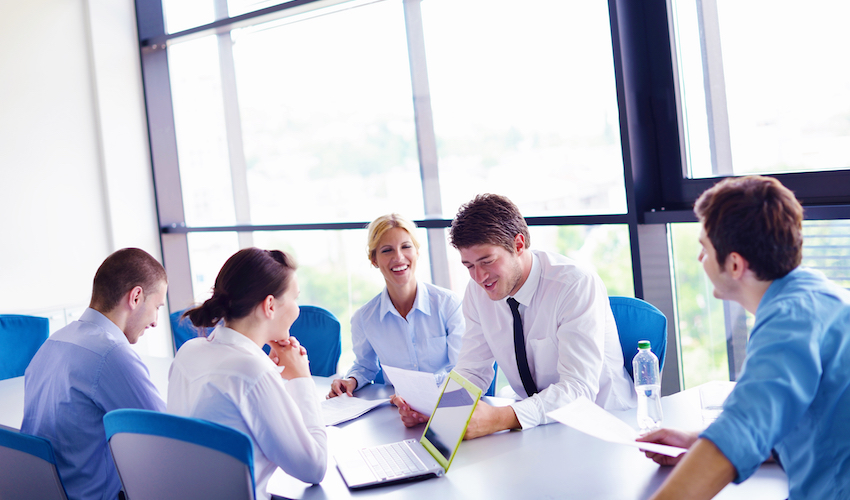 Banking on a Champion Team
Challenge
It is an adage that holds true in sport and business - a champion team will invariably beat a team of champions.
The point is underlined when you look at how the Team Management Profile (TMP) was used within a senior National Australia Bank (NAB) business unit to transform a group of excellent subject matter experts into a high-performing team.
David Bannatyne headed the Group Operational Risk and Security team, housed in NAB's headquarters in Bourke St, Melbourne. When he inherited the team, David noted that the managers were highly-regarded as risk experts and insurance gurus, and they were brilliant security and fraud professionals. However, he felt their potential as a cohesive team had been under-developed. They were, in other words, a team of champions and David foresaw the day when they could become a champion team.
David found in meetings that team members behaved like many experts in business and academia:
They were great at discussing complex and detailed operational issues but often did not listen to each other because they were engaged in their own viewpoint or specialty.
They excelled at strategic conversations, but ideas were invariably not put into action.
They relied on the leader for decisions or action, even though strong delegations were in force.
David was keen to transform the team and, given some of the large-scale business imperatives occurring in the bank, it was vital for group members to step up. In becoming a seamless team, they would be better able to 'protect' the bank in its risk decisions.


Approach
David engaged John Urbano from Fulton Consulting Group and he decided to utilize the Team Management Systems work-based assessment and feedback instruments in an effort to better understand individual approaches to work within the group. The obvious tool was the Team Management Profile (TMP).
Early insights into team members' behavior raised alarms. They considered group meetings to be a waste of time and a common sentiment about such gatherings emerged: "Why are we talking about this rubbish?"
Prior to receiving their TMPs, the NAB managers were somewhat ambivalent and skeptical about starting this journey. Individuals really just wanted to get on with their work. As the assessment period unfolded, however, interest grew and negative perceptions started to dissipate.
Urbano used the profiling to get managers to open up and asked each person to explain the events that had shaped their approach to leadership. 'Playback theatre', a process whereby professional actors joined the bankers to help encourage the sharing of audience stories and experiences, was utilized at this stage to illustrate what it's like working in the team. The team can be an observer. It accentuated what was going on - (and provided) deep insights. Urbano also discussed individual Team Management Profiles to help group members recognize their strengths and develop strategies to better influence others. When this analysis was extended to the wider team of 36 staff, a surprising result occurred.
They saw that they were quite a balanced team. Furthermore, they saw the value of understanding one another as each team member left their TMP on their desk so their colleagues could read it and see how to best communicate with them and what their triggers were. People recognized and accepted the role they were playing in the team.
The daily business duties of the team were used to bring focus to the group: as real issues played out, it was possible to watch the interaction, for better or worse, of members. We had some hard conversations which were needed to test the new relationships. This helped foster a spirit of inquiry and helped the group become a market leader in risk.


outcome
According to the NAB, the benefits of the TMP experience have been significant. Management meetings are more robust and focused. A rotating leadership is in place that inspires and motivates staff. And tensions within the group have eased.
Rob Anderson says things quickly began to change with the knowledge gained from the TMP:
"The team was running itself. (They) began to rely less on the management structure and a lot more on each other and their people. It became more flexible ... and there was trust that you would deliver your piece."
Rob also commented that only a few people did not enjoy the TMP experience and they subsequently left the team. Those who remained felt sufficiently empowered to focus on their strengths.
TMP assessments of individuals, based on the Margerison-McCann Team Management Wheel, proved interesting. One Concluder-Producer lived up to his Profile in ensuring that the group engaged in practical plans. Rob notes:
"One of the other team members who has a major role of Upholder-Maintainer (they are typically conservative and purpose-driven at work) used to drive the rest of the team mad, chasing it up to meet reporting deadlines. But she has the hardest job and is highly-valued. The TMP helped to empower her to do this task and to see the value in it."
As for those annoying team management meetings, a new mood and vibrancy has been created. The weekly meeting has been dropped and replaced with a monthly get-together. Everyone involved is now more focused and committed. Just six core individuals are required to attend, with others brought in when required. The experience has also helped build a culture of greater respect, both inside the risk management group and within the bank more broadly.
In addition, other team members in Melbourne have appreciated a more positive environment and freedom to do their jobs. As Rob explains:
"The team focused on outcomes it needed to deliver and equipped the leader with what they needed him to do for them. Once perceived by the rest of the bank as being unlikely to meet its responsibilities, the change has been dramatic. Now, no-one really worries about the team."
With the team now engaging harmoniously, John Urbano has been able to disengage his coaching role and let talented members within the group show their executive skills. Future team leaders are doing the coaching. Urbano notes, "if you want a team to be high-performing, you need the leaders in it to grow. It was a gift to work with this team - the journey was easy because of the range of talent."
Copyright © John Urbano. All rights reserved.