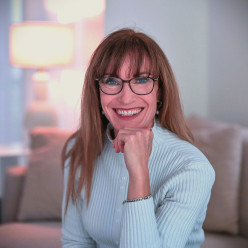 SERVICES
Develop Leaders
Build high performing teams
Advance change readiness
Create collaborative cultures
Foster agility and resilience
Align families in business
EXPERTISE
Leadership
Team Development
Change Management
Business Innovation and Transformation
ACCREDITATIONS
Team Management Profile (TMP)
Linking Leader Profile (LLP|360)
Opportunities-Obstacles Quotient (QO2) Profile
Window On Work Values (WoWV) Profile
EXPERIENCE
Genevieve is a dedicated professional, inspired by the mission to empower individuals and organizations to excel in both work and life. With a unique blend of practical thinking and behavioral science, she delivers impactful experiences that lead to profound growth and positive change.
As a Master Trainer in all TMS tools, Genevieve brings a wealth of experience and knowledge to the development opportunities she creates. Her diverse background as a people and culture executive, leadership coach, program facilitator, and researcher allow her to effectively transform valuable insights into actionable strategies, fostering healthy, resilient, and productive organizations.
Genevieve's approach is about building capability at every level, from individuals to teams and systems. By pragmatically addressing real and pressing challenges that hinder peak performance, she equips people with the tools and skills they need to thrive in their professional and personal lives.
Those who engage in Genevieve's sessions find them relevant, engaging, and outcomes focused. Time spent with her is a valuable investment, as she facilitates an environment of acceptance, learning and growth.
TESTIMONIALS
"I wanted to write a note to say a huge thank you for facilitating a fantastic session for our office yesterday afternoon with Genevieve. She ran the session so expertly and was also amazing keeping to time since we ran a bit late joining. I have had really great feedback from the group who enjoyed themselves and we especially appreciate all the effort you put in to put the program together so quickly for us. We look forward to using the resources more as a team – I think it will be constructive for us to reflect on what we learned about each other and incorporate this into our ways of working."
"Genevieve is an exceptional practitioner, understanding how to engage the learners, create involvement, make you feel at ease, happy to answer all questions and ensure you are clear before moving on. She is an expert on the content and I thoroughly enjoyed the workshop and got a lot of value from it."
"Genevieve was fantastic to work with - clearly very knowledgeable and passionate about QO2, but still pragmatic about how we could work with our clients. We were spoilt to have her sole focus and attention...lucky us! Content was right sized and right paced, pre-read exercises well suited too."
Genevieve travels from the Gold Coast, QLD and is available to partner with organisations across Australia and New Zealand.