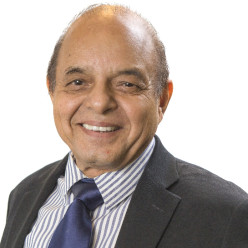 SERVICES
Training
Coaching
Consulting
EXPERTISE
Leadership
Conflict Resolution
Coaching
Programme Facilitation
ACCREDITATIONS
Team Management Profile (TMP)
Opportunities-Obstacles Quotient (QO2) Profile
Experience
Prakash Mathur is an executive coach, trainer and facilitator with over 30 years of management experience globally. Focusing on leadership, effective business communication, company culture and organisational behaviour, he is highly regarded for his management experience across a wide range of industries including healthcare, manufacturing, retail and finance.
Prakash is CEO of Transformative Training Pte Ltd based in Singapore. He has worked as Management Consultant for Deloitte Consulting in New York and for other corporate clients such as Sony Corp, Aon and National University of Singapore. He has worked for the British Council's Professional Development Centre in Singapore as their Senior Trainer Consultant for 15 years.
Prakash is experienced in developing end to end processes of learning and development and consults for companies and individuals. He has a passion for change management and mentoring and has introduced mentoring programmes into several organisations he has worked with.
Prakash is a Canadian national and lives in Singapore.
TESTIMONIALS
"Prakash was absolutely wonderful! Great teaching style, packed in real life examples from the corporate world, approachable, patient, inspirational!"
- Senior Vice President, IT Co.
"Learned, knowledgeable, interactive, engaging."
- Senior Sales Executive, Major Car Manufacturer
"What more can I ask for in a trainer? He was awesome."
- Manager, Ministry of Manpower
Prakash is available to partner with organisations in Singapore, Malaysia and virtually throughout the Asia Pacific region.